Welcome to our Museum




"I left the Vanadzor Museum of Fine Arts desiring to return - truly a jewel and a rewarding experience to have visited." Mrs. Ruth Bedevian, 2010 - Read More

More than 1,700 interesting and recognized works of art adorn the three public exhibition floors of the Vanadzor Museum of Fine Arts. Visiting and temporary exhibits accompany the Museum's permanent exhibitions, making frequent visits to the Museum interesting and educational for all.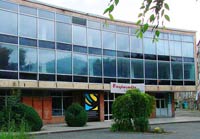 Nestled in the lush and beautiful Lori Region of Armenia, the Vanadzor Museum of Fine Arts is the perfect destination. Near Lake Sevan and the picturesque city of Dillijan, the Museum is conveniently located on the way to such remarkable historic sites as the 10th Century Sanahin and Haghpat monasteries.
Located 90 minutes from Yerevan, the Museum and its rich collection await your next visit!
Vanadzor & Lori

News & Events



Vanadzor is located in the picturesque Lori Region which is in North East Armenia and borders on Georgia. Vanadzor is easily reached by car and is located approximately 120 km from Yerevan on excellent roads. The Lori Region is picturesque and many proclaim that Lori is the most beautiful region in Armenia. Streams and rivers converge through mountain passes greatly contributing to a visitor's experience.
Read more
The "Fashion Road: Dialogue across Borders"
"Fashion Road: Dialogue across Borders" exhibition opens at Vanadzor Museum of Fine Arts on March 23, 2012. The project was is funded by the European Union through Culture Fund and European Cultural Foundation and was made possible through the joint efforts of five members of the European Union National Institutes for Culture (EUNIC).
Read more